April 23, 2020
Travel Nurse Resources for COVID-19 Job Cancellations & Unemployment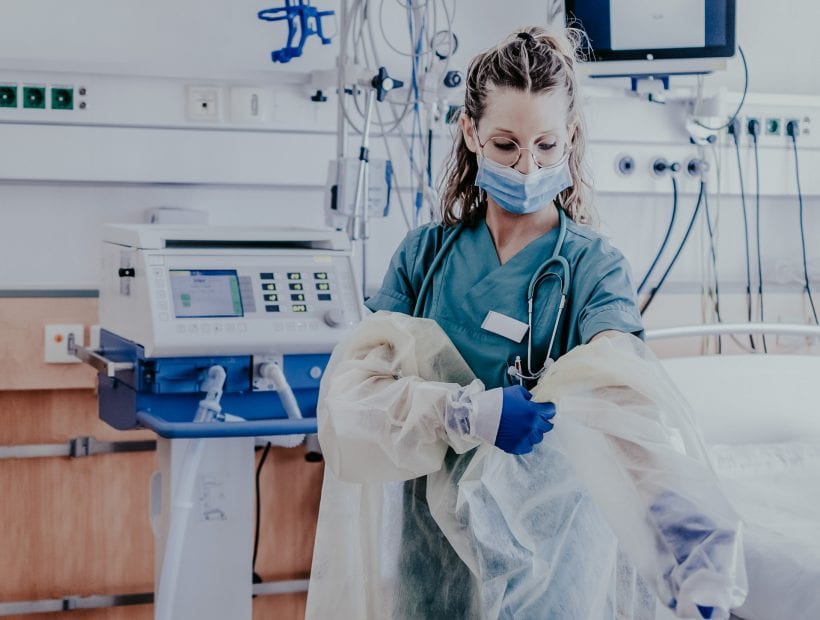 Everything feels uncertain right now, and travel nurse jobs are no exception. While there's always some level of risk of assignment cancellation, there's an influx of canceled assignments industry-wide. We know nurses have servant's hearts; they look for ways to help — and of course, the high-pay doesn't hurt! But what happens if your assignment is canceled? And can you stack the deck in your favor to stay employed? Here's what you need to know.
What to do Before You Take a Crisis Assignment
Benjamin Franklin had it right when he said, "An ounce of prevention is worth a pound of cure." Yes, it feels cliche, but spending a small amount of time and effort early on can save you more trouble in the end. 
Tip: Before you take a crisis assignment, read our guide to Crisis Response Jobs, so you know what to expect with credentialing, housing & more.
We know things are changing weekly, daily, and even hourly. Plus, every state and facility operates differently. So to continue with the cliches, you should expect the unexpected. Oh, and consider these tips to be as prepared as possible.
Evaluate Your Risk Tolerance

: Crisis assignments will always be the first to be canceled when census drops. If you want to take that assignment, know that your crisis rate may cost you a cancellation. Some nurses accept the risk and will earn as much as possible while they can, while others prefer the longevity of a consistent paycheck. It's up to each nurse to evaluate that risk.

Consider Your Budget

: Don't skip this step! Of course, a pandemic also brings inflation, so you should expect living costs to increase by up to 10%. But, you should also consider if you can afford to be canceled. Some specialties are at higher risk than others, but it's a good idea to save up to 3 months worth of expenses.

Do Your Research

: Our VP of Clinical recommends that you always check with local and state health departments to understand community health prior to taking a travel assignment. Doing this can help your understanding of the overall hospital census. It's also a smart idea to ask about COVID protocols during your interview — it's essential in understanding the hospital's quarantine scenarios.
Tips for Working a Crisis Assignment
Once you're on assignment, it might not seem like there's much you can do to prevent being canceled. Don't put your money on that! You've heard it a million times over the past month; these are uncertain times. And that means that anything is possible. You'll need to be proactive, flexible, and ready to help anywhere you're needed, literally. While there's no guarantee, travel nurses are notoriously determined and have seen success with these tips.
Offer Your Skills

: You've heard of Helping Hands — like when a Med Surg nurse might go to the ER to start IV's, task, or take temps. But don't count on your charge nurse making that call for you. Everyone, including management, is overwhelmed. Take the initiative, look for places to assist, and offer your skills. Consider offering to be a sitter. These actions can increase your value and may prevent a cancellation.

Communicate With Your Team

: Whether it's your charge nurse, social network, or TNAA team (especially your TNAA team), keep open lines of communication on what you need — whether it's a new hotel or care package to boost your spirits. We will do everything we can to help you show up and be the kick-butt nurse you were hired to be.
What to do After Your Assignment is Canceled
Sometimes, despite your best efforts, the hospital census has dropped too low for the facility to justify keeping you. It's not a situation that anyone wants to be in. Maybe it's a string of canceled shifts, but when you get the news, it's never easy. While we hope you get enough notice to figure out your next step, we know it doesn't always happen that way. Our incredible Benefits team pulled the following tips and resources to help you land on your feet.
Filing for Unemployment During the COVID-19 Pandemic
You may see different terminology: unemployment insurance, unemployment assistance, or benefits. Don't let the term "insurance" throw you off or prevent you from applying if you lost your job due to COVID-19. Keep in mind; you will not receive unemployment benefits if you quit your job or were fired for cause. 
Where Do I File?

You'll need to file for unemployment for the state in which you last worked.

Click here for a list of each state's website and hotlines to file.

While TNAA is your employer, your assignment location determines the state in which you file.

What Will I Need?

You'll need to provide a few things: your name, social security number, date of birth, phone number, and the facility name and address where you last worked. Be prepared with your banking information too.

How Long Will it Take?

While there is no guarantee, we understand that the first payment is typically received within one week. 

How Can TNAA Help?

We will do everything we can when the notice is sent to TNAA to speed up the process so you can receive a speedy payment.

Anything Else?

This is a new unemployment filing process, and it's a direct result of the COVID-19 aid package — that means that the normal restrictions and expectations are slightly different. Typically there are expectations — like looking for another job — and those will likely return to normal once the crisis is over.

You can read more about the coronavirus aid package (the CARES Act) here.
WATCH: This video breaks down the available resources from the Department of Labor & other government agencies. Click here to watch.
Unemployment Resources for Travel Nurses Impacted by COVID-19
Whether you're in a coronavirus hot-spot or not, you're dealing with the fallout from the coronavirus' effect on the healthcare industry. With elective surgeries postponed, many OR nurses and scrub techs find themselves without work. Meanwhile, many medical personnel who worked in family practices, dermatology offices, and other specialty clinics find themselves furloughed. Go ahead and bookmark these resources.