March 23, 2020
Travel Nurse Career Guide: Crisis Response Nursing Jobs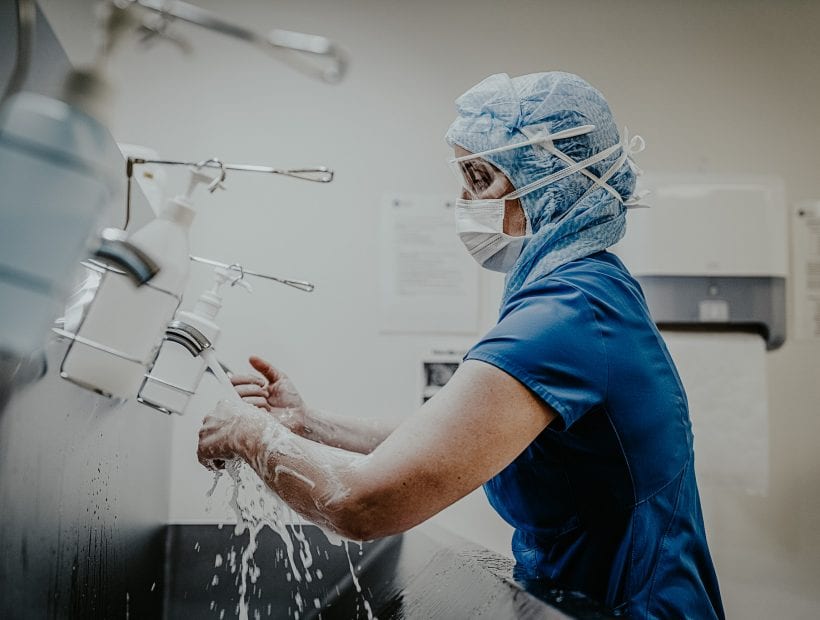 With the COVID-19 pandemic, facilities need nurses now more than ever. We, like most travel nurse agencies, have crisis response needs. So, what is that exactly? As the name suggests, these assignments require nurses to start immediately and boast some of the highest pay rates for travel nurses due to their urgent nature.
Immediate Response & Crisis Assignments
You'll hear different terms, like crisis assignment, or crisis rates. They all refer to immediate needs. You may see these assignments when a hospital is experiencing a census spike, EMR upgrade, or response to a natural disaster. In this case, it's the COVID-19 outbreak. Here's what you need to know.
Immediate

: You'll need to move quickly to start ASAP — typically within 2 weeks.

Short Term:

Contracts for these assignments are typically 4 – 13 weeks.

Unpredictable

: You'll need to be flexible when it comes to shifts and availability.
Tips for Nurses Taking Crisis Response Jobs
With COVID-19, the level of unpredictability requires adaptability. It's important to know that this will not be a traditional assignment. You'll need to be able to work outside of your comfort zone, particularly in regards to shifts. Ask yourself these questions:
Can you start in 2 weeks?

You'll need an active, clean nursing license in the United States. Expect licensing to be extremely expedited or waived.

Can you adapt quickly?

Travel nurses are notoriously adaptable, but during crisis response assignments, this is paramount. On-boarding modules? Those might be pushed to the back burner so you can help immediately.

Are you currently on assignment?

If you are, leaving to take a crisis assignment can impact your future travel career. We recommend honoring your current contract.
We know nurses want to help. Pair that with high hourly rates? We get it. Know that COVID-19 will likely reach you if it hasn't already. While you may be ready to jump to the front line, your current facility needs you too. Be open with your recruiter and consider all options.
Travel Nurse Housing During a Crisis
Like everything else, there's a level of uncertainty when it comes to finding travel nurse housing during this COVID-19 outbreak. And when your assignment starts in 1-2 weeks, finding housing becomes a significant stressor. We've got you. Our goal is to ensure you have housing covered so you can focus on your patients. Here's what you need to know: 
Utilize Your Housing Specialist

: You have enough things to worry about; your housing search shouldn't be one of them. Our team is in constant contact with hotels, landlords, and industry connections. From payment assistance to short-term hotel stays, we're with you.

Contact your housing team here with any questions!

Prepare for Hotel Stays

: Hotels are ideal should you take a crisis response assignment. Our partner, Extended Stay America, is considered essential lodging. They remain committed to healthcare workers who are needed on the front lines.

Expect the Unexpected:

This is not a typical assignment, as you're aware. Whether it's furniture delivery or non-essential maintenance, be flexible with expectations. Consider packing a few essentials — like camping chairs, coffee makers, or even an air mattress — to ensure you have the basics.

Budget Accordingly

: Be aware of price gouging. Unfortunately, we've seen it happen. The law in some states allows up to a 10% increase — and that can add up. 

Determine the Necessities

:

Listen, there's a shortage of household staples everywhere, the hospitality industry is no exception. We recommend packing paper products, toiletries, and a few kitchen staples. Many of our vendors are still supplying those items, but it's taking longer to get there. If you're not sure about grocery availability, consider setting up a delivery before you arrive.
We've always believed in our support teams. Now, more than ever, we know that our specialists are invaluable. We're obsessed with doing everything we can to bring a sense of normalcy to an uncertain experience. For our caregivers who find themselves far from home, we see you and we're here to care for you.
TNAA Support
Throughout this pandemic, our priority is the safety of our nurses — you can count on that. When it comes to crisis response assignments, you can expect the same industry-leading support and benefits that truly matter. You can also find our COVID-19 resource page here.
A Team of Experts: Our teams — comprised of contract experts, payroll pros, insurance gurus, and Registered Nurses — are working hard to ensure you have support from TNAA while on assignment.
Experienced Recruiters

: Unlike other agencies, we ensure you have an expert advocating for you and your career at all times. When you're far from home in uncertain situations, it's easy to feel alone. When you travel with TNAA, you've got someone in your corner, always.

Day-One Insurance

: Comprehensive medical, dental, and vision insurance is available. And that coverage waives deductibles for COVID-19 testing.

Emotional Support

: From our Chaplain Program to EAP, support is as close as your phone. A listening ear, financial advice, legal consulting, or counseling, we offer the benefits you need to do your job.
Important Links
Due to social distancing, quarantining, and night-shift life, we're not even sure what day it is — so we compiled a few important links you may need. Of course, your recruiter can put you in touch with your support specialists too!
Crisis Rate FAQ
What documents do I need to take these assignments?

Will I still interview with the hospital?

Will I stay within my specialty?

Will housing be easy to find?