May 6, 2022
Tips for Travel Nursing Newbies in 2022 Brandy Pinkerton of Travel Nurse 101 has almost 20 years of experience in the nursing industry. She's worked in NICU and PICU and as a traveling nurse and flight nurse. Now, she's adding 'mentor' to her resume. As a travel nurse mentor, Brandy focuses on educating and guiding nurses through the process of becoming a traveler.
Deciding to Become a Travel Nurse
View this post on Instagram
When you think of a travel nurse, you might picture a medical professional in their early 20s who has two years of staff experience and hits the road solo. Some travelers fit that description, but others decide to travel closer to retirement, take their family and pets with them, or travel with a friend.
Brandy started travel nursing a week after her son went to college, and she'll tell you that there's no right or wrong time to become a travel nurse.
"It's never too late," Brandy said. "If that dream is in your heart, you have to check it out, or you're going to wonder, 'What if?'"
Advice for New Travel Nurses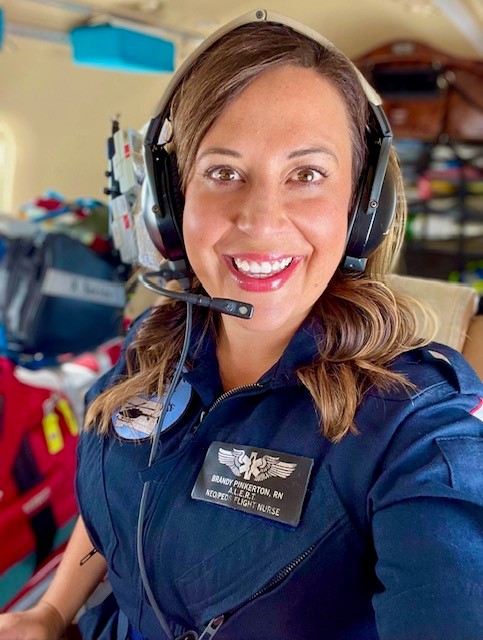 Travel nursing has given Brandy the experience of a lifetime. She's met wonderful people, traveled to beautiful states, and grown her skill set. She also had to learn a few lessons the hard way, so she wants to share advice to make new travelers feel more prepared.
Getting Ready for a Career Switch
While the world of travel nursing is amazing, it can also bring unexpected bumps in the road. Brandy says to prepare by establishing a good savings ahead of traveling. 
Brandy was on her first assignment in Colorado Springs and loved the area when the facility canceled her contract two weeks early due to low census. Luckily, the company she was with found her another assignment quickly, but it was still a lesson learned.
"I had a savings account built up, so it wasn't the worst thing, but it showed me that those things do happen," she explained.
2. Start researching for companies and recruiters while you are still a staff nurse. When you find a company and recruiter you like, work with them to build your travel nurse profile, but keep your staff job until you have an assignment ready.
When the time is right, give your staff job a proper two-weeks notice, and never burn a bridge. Even if you don't work there in the future, you may want to network with your former boss and coworkers.
3. Have goals of what you want to achieve with travel nursing, but be open-minded and flexible, especially for that first contract. Getting that first assignment on your resume or profile will open up other opportunities.
"In the preparation stage, I mention writing down your goals," Brandy said. "What are you trying to achieve by travel nursing? Are you in it for the experience, the money, or to build your resume? Identifying those goals will help you decide where you want to go after that first assignment, which is when you just want to get your foot in the door."
After Accepting an Assignment
After signing a travel nurse contract, you must think about housing and compliance. Here are Brandy's tips for after you accept an assignment.
First and foremost, make sure you have the proper license or start the process to get it because a licensing delay can hold you up from your dream job.

Watch your email for information from your compliance specialist. You will need to get the compliance items done and out of the way, and your compliance specialist will help you get everything you need, set up the appointments, and pay for it all. 

Prepare your home logistics for being away and start looking into housing. According to Brandy, it's a good idea for first-time travelers to work with their

agency's housing department

. Having an expert housing specialist find you a safe, affordable place to stay in your new city can take away a lot of stress.
Your First Week on Assignment
You're actually on the road to your new destination, and this travel nurse dream is starting to feel real. What should you prioritize that first week? 
Before your first day at the facility, map out the drive to the hospital, find your parking, and know where you need to go for orientation. You'll likely get your first-day instructions, including where to report for orientation, the Friday before your assignment begins.

Make your morning routine easier by setting out scrubs and meal prepping for the first week.

During orientation, learn where to find the crash cart, the med unit, and the supplies so you're ready to take action when an emergency occurs.

Introduce yourself to the nurse manager. Making this connection can save you later if you have a problem and need help. 

Keep a copy of your contract with you at all times. If asked to do something out of your scope, you have that contract to back you up.

Understand your chain of command to know whom to speak with if you need to escalate a situation.
Once you've handled these logistics, get ready for a career full of adventure! If you're ready to become a TNAA traveler, start your application today! And if you want to talk with Brandy to learn more about her experience or the travel nursing process, visit Travel Nurse 101's website. She's ready to chat.
"We can talk about your unique situation, what you are doing, and where you want to go," Brandy said. "I'm here as a fellow nurse, traveler, and friend if you need me."