May 26, 2020
Tips for Landing a Job as a New Grad Nurse During COVID-19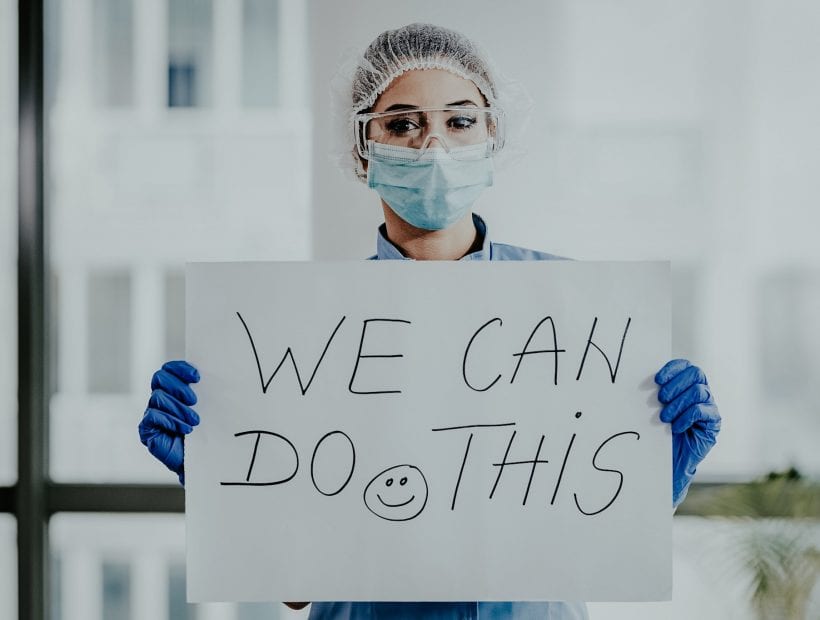 Typically, May signals the culmination of all their hard work for many nursing students, from graduation celebrations to that first moment stepping on the unit as a Registered Nurse. But, these special moments look different now. Whether it's Zoom grad parties or not feeling confident in your skills after missing those last few clinicals, it's now the norm for new grad nursing in a time of COVID. So, how will you get the experience you need to reach your career goals? We chatted with nursing professor De Dashtipour, RN MSN, on what new grad nurses can do now to gain the experience they need.

NCLEX Changes & What You Can Do
New social distancing guidelines add an extra layer of complication to taking your NCLEX. Limiting the number of people allowed in testing centers, you likely will not take your test as soon as you'd hoped. Luckily, with your diploma in hand, you can start gaining RN experience until you ace your test. Bookmark this NCLEX FAQ for more info on what to expect.
Leverage Hands-On Experience 
Of course, NCLEX test-prep programs are beneficial, but if you're unable to find an RN job, you can still practice your skills while working on the unit. New state regulations, while they vary by state, allow nurses to parlay their clinical experience to qualify to work as certified nurses assistant or patient care tech. Should you go that route, here are a few tips to make the most of your time on the unit — whether it's the job you wanted or not. This update from NCSBN covers state waivers for new grad nurses.
Be Observant

:

Observe the nurses, clinicians, and teams working on your patients as much as possible to see how they interact and organize their work.

Study

:

When watching your care teams, consider what you know and what you don't. When you get home, look those skills up. Study the 'why' behind your patients' care plans utilizing your NCLEX study prep, YouTube, or study groups.

Ask Questions

:

Read the room on this one, but if your coworkers have downtime, ask them questions about skills you may have missed during last-semester clinicals.
Tip: Sign up for emails from NCSBN.org to stay up-to-date on licensure changes, NCLEX testing updates, and guideline changes.
How to Go From New Grad Nurse to Travel Nurse
While these tips focus on new grad nurses, prepping them for the unpredictability of travel nursing, they're great for any new grad nurse. Travel nursing requires nurses to adapt quickly and think on their feet. While your nursing skills will need to be sharp, it's adjusting to new surroundings and processes that feel daunting. Consider the workflow — utilizing the Pyxis, adapting to different crash carts, or even locating environmental services — and how that impacts your practice. If your goal is traveling, here's what you can do as a new grad nurse.
Look for an Extensive Nursing Internship
Many hospital facilities offer internship programs; this will allow you to gain valuable experience working as an RN, but with a preceptor, training classes, and useful skills work. Professor Dashtipour advises her students to seek out internship opportunities to continue practicing their skills. "Think about your Med-Surg chapters; they're covering the basics. During an internship, new nurses will have individualized attention on specialized skills you never did as a student, like administering blood. Plus, they'll have someone to guide them through hospital processes, helping them to feel confident in their practice. The training wheels are off, but there's still guidance." 
Look for Opportunities to Grow Your Skills
For new nurses who missed their last semester of clinicals due to COVID-19, you're starting behind — and that's the hard truth. But you are a nurse, and nurses are resourceful. While travel nursing does require a unique skill set (more on that here), you'll need to position yourself to learn as much as you can to be a great nurse first. As a former trauma nurse turned nurse manager turned educator, Dashtipour advises new nurses to tap the resources that are readily available to them. "Whatever size hospital you are at, you have a plethora of experience and knowledge to pull from, you just need to know where to look."
Evaluate yourself as a nurse

:

Before you start, consider your skills and be open with your preceptor or mentor. Professor Dashtipour suggests saying, "These are the experiences I'm confident in, and these are the ones I need practice in."

Practice your psychomotor skills

:

The relationship between cognitive functions and physical movement is crucial in nursing. An internship allows you to practice starting IVs, catheters, or hanging IVs. The more you do them, the easier they'll become.

Tap into collaborative practice

:

Spend time with Respiratory Therapists, Physical Therapists, and other clinicians. They offer a wealth of knowledge on assessment skills and cross-discipline communication. Ask a PT to watch you move a patient. Watch an RT work with a vent. 

Gain experience communicating

:

From end-of-shift reports to interacting with family, you can learn a lot by watching different teams interact. Doctors and PAs offer insight into what's important clinically. Watch how pastoral care interacts with patient family members and hospital staff for insight on how to communicate emotional needs.

Start advanced classes within your specialty

:

If you were lucky enough to land a job in your desired specialty, start looking into certifications. While you might not feel ready for your CCRN, now you know the requirements and can begin working toward your cert.
Working With a Travel Nurse Recruiter
Remember, depending on your specialty, you'll be able to hit the road once you hit your 1-year mark. Some facilities prefer more experience with certain specialties — like NICU, OR, ER, and ICU tend to be between 1-2 years — while L&D has a firm 2-year minimum requirement. So, if your goal is to start your travel nursing career as soon as possible, consider getting your experience on a telemetry unit, med-surg floor, or progressive care unit. Once you have around 8 months of experience, you can start reaching out to recruiters. 
New to the World of Travel Nursing? Start Here!
We're breaking it all down on the Travel Nursing Basics Guide, from understanding housing to how travel nurse pay really works.