May 15, 2020
The Ultimate Guide to Health Insurance for Travel Nurses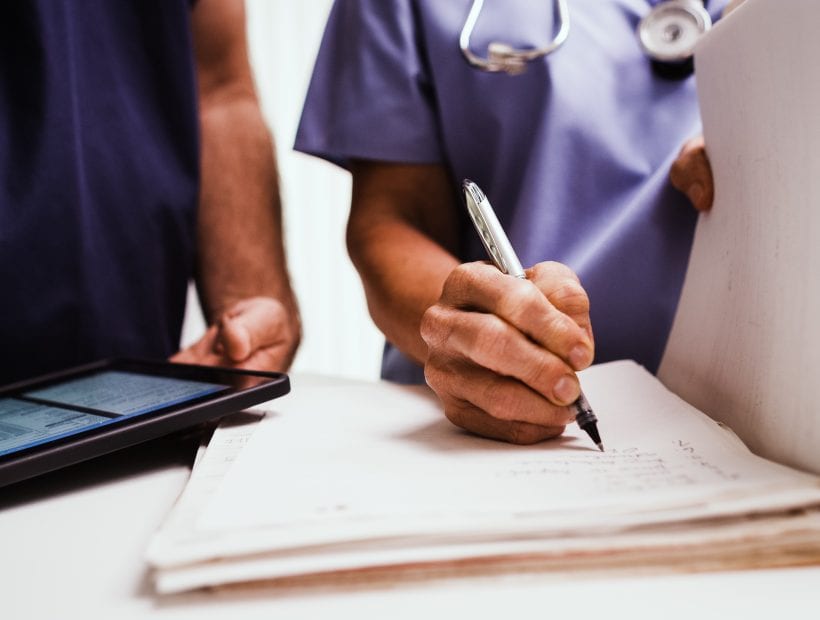 You spend the majority of your time caring for others. So what happens when you're the one in need of care? While a staff nurse receives health insurance from the hospital where they're employed, it's a little different for travel nurses since their employment is on a temporary basis, making agency-sponsored insurance plans a little tricky. So, do travel nurses get health benefits? Absolutely! At TNAA, travel nurses are our employees — they receive a W2 and everything — and we developed our benefits around the gypsy nurse lifestyle. It's health insurance, and a whole lot more, made to fit how you live and work, wherever this career takes you.
Not an expert on health insurance? Perhaps you're fresh off your parent's plan and don't really understand your options. Or maybe you've had health insurance, but don't really know what it all means. We've got you covered! We're breaking down everything you need to know about insurance and employee benefits. There's a lot of info in this guide, use these links to jump to specific sections.

The Basics of Travel Nurse Benefits & Health Insurance
At its most essential definition, employee benefits provide value to both the employer and employee. By providing employees with benefits they value, companies distinguish themselves from the pack and draw in top-tier talent. So, what does that entail? Let's explore 2 types of offering categories: standard benefits and standout benefits. 
Standard Benefits: We consider this the must-have category; it's a mix of the legally-required offerings and the benefits that apply to everyone. Think of the offerings you expect from an employer — like health insurance — and the basics required by the government, like FMLA.
Standout Benefits:

This category refers to the extras, the benefits designed to improve your quality of life. Think of the additional things like pet benefits, retirement account options, or employee assistance programs.
Our specialists continuously evaluate our offerings to design them for how our nurses actually live. We know travel nurses are diverse; and so are their needs, from active explorers to family financial providers. So whether you have dependents, live to hit the trails, or all of the above, we've got you covered.  
Health Insurance 101
Just like auto insurance covers your vehicle, health insurance covers you if you're sick or injured — and preventative care too! Health insurance won't always cover 100% of your costs. Health insurance shares medical expenses with you until you hit a specific limit, called your out-of-pocket max. But first, let's back up and go over a few essential terms:
Deductible:

A deductible is the amount you have to pay toward medical costs before your health insurance kicks in, picking up their part of the bill. Every plan is different, but generally, paying things like hospital bills, or lab tests count toward your deductible. If you have a $3,000 deductible, that's how much you're on the hook for before your insurance plan says 'ok, we'll help now.'

Co-Pay

: Think of a co-pay like a cover charge, just without the open bar. It's the flat fee you pay for covered medical services. Preventive care, like your annual physical, may be fully covered by your insurance. Meaning, in the case of preventive care, you would have no co-pay.

Co-Insurance:

This term refers to the slice of the medical service you're responsible for paying. Whether you pay a co-pay or co-insurance depends on the type of medical service, and in some cases, whether you've met your deductible. For example, you might pay 20% of your bills for a particular service, and your insurance company will pay the remaining 80%.

Premium

: This refers to the amount you'll pay to purchase a health insurance plan. Think of it like your Hulu subscription — you pay monthly or yearly to maintain your subscription and stay up-to-date on your shows. Paying your premium keeps your policy active so you can continue receiving coverage.

Out-of-Pocket Maximum

: This term refers to the max amount of money you have to pay for health care in a year. This maximum includes money that goes towards your deductibles, co-pays, or co-insurance fees. After you meet your maximum, your insurance pays for all costs related to your covered health benefits. We call that a win.

HDHP

: A high-deductible health plan is a plan with, you guessed it, a high minimum deductible. While an HDHP has a higher annual deductible, it allows for lower insurance premiums — which is ideal for younger, healthier people who don't expect to need a lot of healthcare coverage. Plus, it qualifies the individual for a tax-advantaged HSA.

HSA: A Health Savings Account is a tax-advantaged account for those covered under HDHPs to save for medical expenses not covered under their HDHP. You contribute money into this account throughout the year to use to pay for qualified medical expenses.  With TNAA, your tax advantage is in the form of an after-tax benefit you'll file on your individual taxes. Plus, you are limited to a maximum amount each year. Click here to read more about HSA accounts.

Example: With an HDHP, an individual with a $1,500 deductible who makes a medical claim for $3,500 will have to pay $1,500 — since the insurer is only responsible for the excess $2,000. In this example, to supplement the $2,000 the individual pays out of pocket, they can use funds from their HSA.
Did You Know: TNAA travel nurses now have an HSA option! We know insurance can be confusing. And that's why we have a team of insurance gurus available to answer questions about your specific situation. Email them here!
Dependents, Changing Your Coverage & What You Need to Know
Every travel nurse's situation is a little different, from dependents to the amount of coverage they require. When it comes to employee benefits and the coverage that fits you, know that we're bound by law. You'll need a qualifying life event to change your coverage, like adding dependents. 
Open Enrollment

: Open enrollment is the time period each year when you're allowed to start, stop, or change your health insurance plan. Normally, you sign up around the end of a calendar year for coverage that lasts the next full year.

Qualifying Life Events

: A change in your situation may allow you to make changes to your pre-taxed benefits outside of the annual Open Enrollment timeframe. Below are some examples, but not the FULL list of qualifying life events: 

 Losing existing health coverage, including job-based, individual, and student plans

Losing eligibility for Medicare, Medicaid, or CHIP

Turning 26 and losing coverage through a parent's plan

Getting married or divorced

Having a baby or adopting a child

Death of dependent or current policyholder
If you feel that you may have a Qualifying Event but aren't sure, feel free to reach out to your Benefits Team to determine qualifications.
Health Insurance & The TNAA Difference
We believe in offering the best for our nurses. For us, each nurse traveling with TNAA is family; they deserve plan options we would give our family members — which is exactly what we did. But we didn't stop there. We asked our travel nurses what they needed and their feedback shaped our offerings which — thanks to your fellow nurses — includes medical, dental, and vision. So, wherever your career takes you, rest assured that we've literally got you covered with plans designed to protect you, pandemic or not.
Day-One Coverage
We think this is a big deal. If you choose any of our insurance plans, your coverage starts on your very first day. That's right, absolutely no waiting periods here! You have near-immediate access to use telehealth services or prescription delivery (where available). But even more, there's peace of mind knowing you don't need to wait. 
Typically, we consider this a fantastic benefit, but when you consider COVID-19, this benefit becomes invaluable. Think of those travel nurses who jumped into action to take crisis assignments.
Paid Sick Leave
Some states require that offerings include paid sick leave, but it's not required everywhere. So what happens when a travel nurse goes to a state where it's not required? If they travel with TNAA, they don't have to wonder because we offer this benefit in all 50 states. Here's how it works:
How do I accrue paid sick leave?

Your paid sick leave begins accruing right away. One hour of sick leave accrues for every 30 hours worked, up to 80 hours. You can use 40 per year, and they carry with you as you take new assignments within the year. You can read more about this benefit here.

How can I use available paid sick leave?

We want to make it easy for you to use this benefit! So, when you become eligible to use the sick time you've earned through TNAA, you'll receive simple instructions to submit a few items of information by email or voicemail. The request will be submitted to our payroll department, and if all the required information is received by the deadline, sick leave is paid on the next paycheck.

What else do I need to know about this benefit?

It's essential to communicate with your TNAA team. But, it's of the utmost importance that you follow your facility's absentee policy.
Health Advocate
Even as members of the healthcare system, navigating the healthcare system can be overwhelming. That's why we offer our travel nurses access to Health Advocate. It's an independent third party, with experts ready to answer your questions and take on virtually any healthcare issue — so you and your family get the right care at the right time. Oh, and it's at no cost to you.
Find

the right in-network doctors and make appointments.

Help resolve

complicated medical claims and billing issue.s

Explain

how all your benefits work, including those voluntary ones like dental or vision.

Research

and answer questions about services not covered by your plan.

Support

your entire family by offering services to you, your spouse, dependents, parents, and parents-in-law, regardless of coverage.

Coordinate

services related to all aspects of your care.
Tip: Email our HR team for more information on how to use this benefit.
Coverage Between Travel Nurse Jobs
Many nurses take time between contracts to visit family, go on vacation, or want extra drive time to get to their next facility. That flexibility is one of the perks of travel nursing, and we created an option with that in mind. Every traveler will receive communication from their dedicated HR specialist detailing these options as their contract winds down, so they're never left wondering what comes next — at least not when it comes to insurance.
Bridge Program

: This TNAA-exclusive program allows you to take time off between assignments without losing your coverage, up to 21 days. When you're working with your recruiter on booking your next assignment, your HR specialist will stay in-the-loop and will connect with you on your bridge options — so there's no added stress about missing deadlines or figuring it out on your own. We work as a team at TNAA, like your personal travel career concierge. 

COBRA

: Unlike the monthly premium of typical insurance, you'll pay for your coverage under COBRA upfront, so be prepared for sticker-shock. Your HR specialist will work with you to switch your insurance over to COBRA and reinstate you when you're back on assignment — you typically even get to use the same insurance card.
Takeaway: When you choose TNAA as your agency, you don't have to worry about figuring it out on your own or managing every detail. From payroll to HR and housing, we all work together with your recruiter, like your personal travel career concierge team. 
TNAA Standout Benefits 
Extra, extra! Read all about it! We designed these bonus benefits to improve your quality of life, from extracurriculars to additional furry family members. There are so many travel nursing agencies to choose from, and we continuously strive to deliver the very best to our nurses. Benefits like these are just another way we obsess over our nurses' experience.
Benefits to Build Your Financial Future
Let's talk about money. Most travel nurse forums focus on hourly pay, OT rates, and your housing stipend. Those are important, of course! You are worth more than a paycheck, and we believe your employer should offer ways to develop your complete financial wellbeing. For us, that means considering your retirement, financial future, and ways to make extra cash when you need it most. 
The 411 on 401(k)

: A 401(k) plan is a company-sponsored retirement account where employees can contribute funds. Typically, you'll hear about employer matching, and that's because your company may make matching contributions. TNAA's 401(k) program offers a 100% match on the first 3% of compensation, plus a 50% match on deferrals between 3.1% and 5% (up to 4% total match). This flyer details eligibility requirements, vesting (ownership of the funds), contribution limits, and more. 

Multiple Bonus Opportunities

: Want to earn more cash? Rhetorical question. From saving for a vacation to paying down debt, if you travel with TNAA, you have multiple opportunities to earn extra money. We offer a referral bonus and an extension bonus — these bonus opportunities aren't a promotion, they're always available to our travelers.

Read more about our bonus opportunities here.
Source: Learn more about retirement account types and how to plan your financial future here. 
TNAA Pet & Lifestyle Coverage
Travel nurses come in all shapes and lifestyles, from adventure-seeking hikers to urban explorers. Some travel with their pets, others bring their partners, and many do both! Recognizing that each lifestyle deserves coverage options, we developed some add-ons to make life a little easier on your wallet. 
Extras: We also offer Critical Illness Insurance, Voluntary Life Insurance, and more not featured in this post. You can read about all of our offerings here.
Accident Insurance
We decided to include accident insurance for our nurses as a way to provide additional cash flow to assist with out-of-pocket medical costs and other bills due to an injury. While many of our travelers are physically active — hiking, biking, and exploring their surroundings — accidental injuries don't discriminate. Lincoln Accident Insurance pays cash should you or a family member suffer an unintentional injury. Even better, you decide the best way to spend it.
For travel nurses, an accidental injury poses significant budget threats: missed shift charges and assignment cancellation costs on top of lost wages. That means, not only is the nurse out of the medical expenses to cover the injury but now could owe money.
Real-life Example:  In this blog, we tell Amy's story, a travel nurse whose accidental injury resulted in the loss of her contract. Luckily, she'd opted for Accident Insurance.
Coverage to Protect Your Pet
If your journey involves your 4-legged companion, then this is for you! While you may hear this benefit referred to as "pet insurance," it's a discount plan. With the Pet Assure veterinary discount plan, you save on all in-house medical services at participating veterinarians. Receive an instant 25% discount on vet services, and all pets are eligible. There are no exclusions on breed, age, or pre-existing and hereditary conditions. You can also choose to participate in a savings plan that cuts costs on name-brand prescriptions and preventatives.
Tail-Wagging Extra: This blog covers everything you need to know about traveling with your pets!
Mental & Emotional Wellbeing Benefits
The emotional burden of nursing is real. Maybe you stayed late for a difficult patient, or a beloved patient had a significant setback. For nurses, death comes with the territory and doesn't give you time to cope. Then there's the issue of dealing with nurse bullying. But what if your personal life is wreaking havoc on your mental health? Whatever the cause, we want to offer resources to help with the emotional burden. 
Chaplains are common in hospitals, but when you're not perm staff, it becomes difficult to connect with resources. As your employer, we wanted to ensure our nurses have consistent access to a chaplain. Chaplains are skilled workplace caregivers who are trained in providing care in multicultural environments, representing many different religious backgrounds. 
Chaplain Angela is available to all TNAA travelers (and corporate staff) to provide uplifting encouragement and a caring relationship to help with personal crisis management. Whether it's a personal life issue or you're struggling with the grief and trauma from your work, Chaplain Angela is a shoulder to lean on, a source of non-denominational spiritual care, or simply a listening ear. The best part? All communication is on your terms, like the time of day — we're looking at you, night shifters. 
Tip: You don't need to remember anything. Simply text your recruiter after a long shift, or if you're struggling. They will connect you with Chaplain Angela. 
Our Employee Assistance Program (EAP) acts as a concierge for support, resources, and information. We want to ensure that you have the resources to manage the stresses of your daily life and remain productive, even when faced with difficult life experiences. This benefit aims to help you and the members of your household, resolve any number of problems such as personal, professional, financial, emotional stress, marital, family, or substance abuse issues. The program assists by offering free and confidential assessments, short-term counseling, referrals, and other services. 
You also have access to topics such as physical health tips, how to help your child(ren) manage money, back-to-school transitions for your child(ren), estate planning, keeping you and your child(ren) safe on social media, how to choose the best pet for your family, and even help planning a birthday party! There's so much more to our EAP service; you'll just have to dig in yourself to find the services that suit you. We want our travelers to be reassured, knowing they have access to confidential counseling provided at no charge. 
Takeaway: Our EAP is available to you 24/7. When you choose your benefits, you'll receive three convenient ways to access this program. But we believe in transparency, so you can find our complete Benefits Guide here to review.
3 Tips for Choosing Your Perfect Coverage
So, what employee benefits are best for you? Choosing your perfect coverage is a complex and deeply personal choice. There's no right or wrong; only what works for each travel nurse. Your personal situation determines what works for you: your medical needs, dependents, lifestyle choices, and so much more. Instead of choosing your standard coverage, consider taking some time for self-evaluation.
Review your medical needs

: The tax benefits of an HSA sounds excellent, but is it really the most practical choice for you? Take time to review your medical needs (and those of your dependents) before choosing a plan.

Evaluate your risk tolerance

: Some people are just more comfortable taking risks than others. You may be an avid hiker and never experience an injury, but if there's a small part of you that worries about what would happen should you become injured, you may want to opt for that coverage. Consider the financial consequences associated with your lifestyle choices and go from there to determine risks and your confidence level.

Discuss your options with your TNAA team

: We want you to focus on doing your job, so we're here to make it easy. Between your recruiter and your benefits specialist, you have a rockstar team to lean on. Your recruiter can fill you in on travelers' experiences in the area while your benefits specialist will ensure you fully understand your coverage options.