July 19, 2021
Healthcare Traveler's Guide on Things to Do in Illinois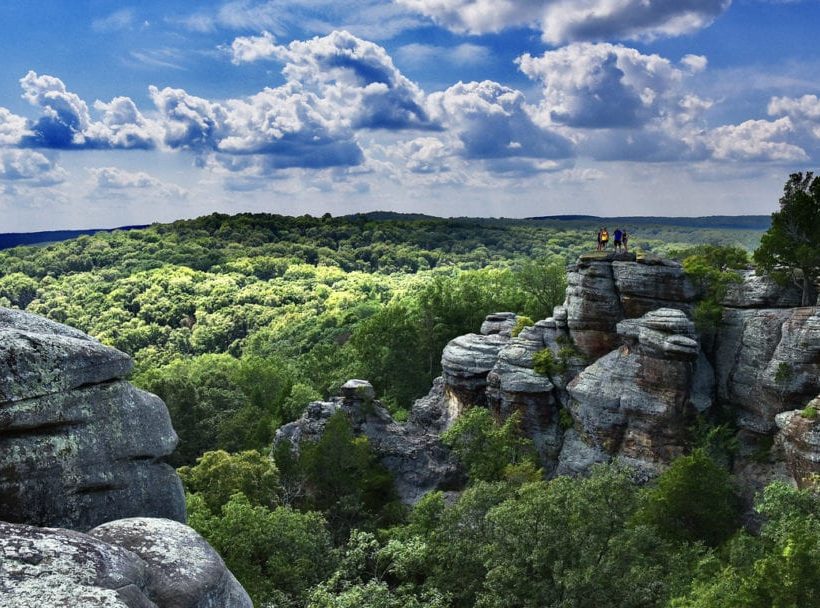 There is much to love about Illinois. While everyone immediately thinks of Chicago (and we mention it on this list), there are plenty more things to do in Illinois. From geological marvels to scenic small towns, healthcare travelers who take assignments in Illinois will be amazed at all it has to offer.
Click here to see why Illinois is a great place to take an assignment if you are looking to build your resume.
Shawnee National Forest
View this post on Instagram
This one is a must-visit destination for nature lovers! The Shawnee National Forest is a Southern Illinois gem. Travelers can hike to the most visited site of the forest, the Garden of the Gods, or walk the  "Giant City Streets" made of sandstone bluffs in Giant City State Park. Water lovers will love visiting the Crab Orchard National Wildlife Refuge with its three lakes or exploring the Ohio River at Cave-In-Rock State Park, a massive cavern that once served as a hideout for river pirates.
Starved Rock State Park
View this post on Instagram
Starved Rock State Park is a National Historic Landmark and was actually the first recreational park in Illinois. This state park features 13 miles of trails and boasts 18 canyons with several waterfalls. In the winter, you can even find adventurers ice climbing on the frozen waterfalls.
With wineries, breweries, and museums nearby, an excursion to Starved Rock State Park is sure to keep healthcare travelers busy. Plus, it's just a two-hour drive from Chicago.
Small Town with Big Things – Casey, Illinois
View this post on Instagram
Casey might be a small town, but it doesn't lack in having a big personality. Casey is known for having 12 of the World's Largest Items. Have you ever wanted to see the largest wind chime, rocking chair or mailbox? Then, Casey is the place to be. The town also has many other 'big' things, like a birdcage and a pizza slicer. While they might not be the world's largest, they still make great photo ops.
Chicago

Everyone knows of Chicago, and it's a necessity if you're nearby. Healthcare travelers simply can't pass up the food and history that the Windy City offers.
Some of the most acclaimed museums in the world call Chicago home. The Museum Campus, a 57-acre museum park, holds the Adler Planetarium, Shedd Aquarium, and the Field Museum of Natural History. At the Museum Campus, you can see 32,000 aquatic animals, Egyptian mummies, moon rocks, and prehistoric dinosaurs all in one area. The Museum of Science and Industry in Hyde Park is home to more than 800 exhibits, like a real German submarine, Tesla coils, robots, and more. And, of course, there's the Art Institute of Chicago where you can marvel at the works of Monet, Picasso, and Warhol.
You'll want to check out some of the Windy City's 7,000 restaurants and get a taste of the food that Chicago makes best, like deep-dish pizza, Chicago hot dogs, Italian beef sandwiches, Jibarito sandwiches, and so much more. For some of the top spots to grab a bite or a drink, check out our blog on Chicago's most instagrammable foods. The list is sure to leave your stomach rumbling.
Taking an Assignment in Illinois
For healthcare travelers, Illinois offers many career-building opportunities and chances to expand your skillset. More than 20 Illinois hospitals were recently listed among the world's best hospitals, and some ranked nationally for certain specialties. Healthcare travelers can also build their resumes by working Illinois assignments that offer experience at level-one trauma centers.
Though licensing isn't the easiest in Illinois, TNAA offers a team of specialists to help each healthcare traveler secure these professional necessities. At TNAA, you'll receive reimbursement and expert advice to get your Illinois license in the shortest amount of time that we can manage.
Ready to pack your bags? Check out TNAA's job openings in Illinois!