February 20, 2020
3 Stories to Remind You Why You Love Travel Nursing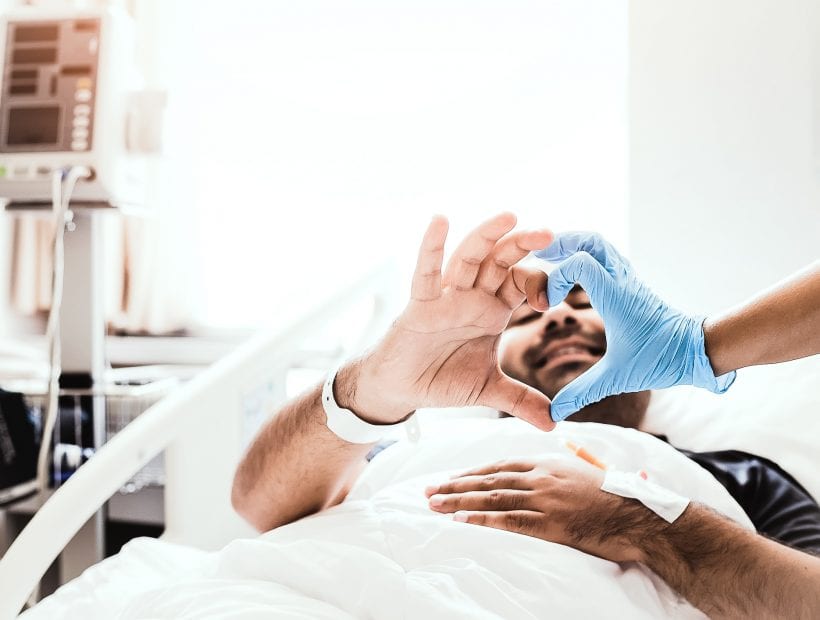 Nurses choose to take their careers on the road for many different reasons — chasing adventure, resume-building opportunities, or flexibility to take the reigns. It's exciting. It's different. Travel nursing takes you places, literally.
We spoke to a few of our travel nurses who seem to radiate the joy that comes with living your purpose. You know the ones — they walk into work every day filled with passion and excitement for their lives. We know nursing is a physically and emotionally draining career. Sometimes you need to reassess what gives you and your work, meaning. Let these stories remind you of why you love being a travel nurse.
3 Stories to Reignite Your Passion for Travel Nursing
1. Embracing Life-Changing Adventure
"Picture waking up in a different place every morning and having the opportunity to live in a new and exciting location every three months! My fiance, Ty, and I are doing this by travel nursing our way around the country in our self built Ram Promaster camper van."
Meet Meg & Ty, the travel nurses behind @wethewanderers
View this post on Instagram
We both went to nursing school and worked staff jobs in Charleston, SC before traveling. Ty has been a nurse for about eight years now and has worked in multiple specialties, including ICU, ED, step-down, etc. I have been a nurse for about three years and worked on a surgical step-down unit before travel nursing. We have been traveling together for a little over a year and have both been working on progressive care units. PCU is a broad specialty, so we never get bored and are exposed to a lot of different skills and patient populations at each hospital we visit.
A few years before we met, Ty did travel nursing. Although he used multiple companies during his travels, TNAA was his favorite. We decided to travel with TNAA based on his experience, and we are so happy we did. We have a great relationship with our recruiter Nichole. She has always gone above and beyond to take care of us and ensure that we are happy. Ty and I both enjoy working days and also like working on the same unit. Day shift positions can be challenging to find, particularly 2 dayshift positions at the same hospital and on the same unit. Nichole has always gone out of her way to make this possible for us — we are very grateful for her and this company. It makes a huge difference when you can work with people you trust, and you know they have your best interest at heart.
Embracing the Journey of Van Life
Our most recent endeavor was taking the leap into van life. Before we moved into our van at the beginning of the year, we were renting a new place every three months, and we found that we were only there on the days that we were working. Ty and I spend most of our time hiking, camping, and exploring the location we are in, and we began to feel that we were wasting money on housing when we were never there. We added up the expenses of buying and building out a van, and after seeing how much we would save, we were set on the idea. We had to do a lot of research beforehand, and the building process was a lot of work, but we can say hands down that it was worth it. Besides the money we are saving on rent, one of our favorite things about van life is having a sense of home wherever we are. We can wake up under a mountain or in a Walmart parking lot and still feel so cozy in our tiny space. It has also allowed us to enjoy our adventures so much more because we don't constantly have to pack for trips or rush home to get ready for the workweek. 
Having our home with us wherever we go has been a huge convenience. There are a few adjustments that have to be made when living in a van full time like finding a place to shower, going to the laundromat, and remembering to dump your dirty water and toilet each week. Still, we consider these minor tasks compared to the freedom and happiness van life has given us.
Follow Meg & Ty's adventures on their blog!
2. Finding Joy in the Journey
"When I graduated from RN school, I applied to TNAA but was told that my LVN years, roughly 15 years, didn't count toward experience requirements. I was told to get my RN floor experience for one year and to reapply. The one year mark hit, and TNAA reached out to me. I was happy where I was at professionally and kindly declined. Two years later, I was ready for a change, and that's when Nick reached out."
Meet Laura, a Nurse Enjoying the Perks of Travel Nursing
My husband Jim and I are adventurous at heart. We love to travel all over the U.S. and have been throughout the Caribbean and twice to Japan. We have no children, and it just seemed like an amazing opportunity. In fact, Jim put it so aptly, "Think of it this way, honey, we get paid to go on vacation, and in return, you just have to work 3 days out of the week to pay for it."
I was in awe of his point-of-view. So far, he's been absolutely correct. I've been so pleased with this entire process that one of my old coworkers joined TNAA and is on her first assignment in Corsicana, Texas. Another one is trying to decide if it's truly for him. It's nice to know that they saw our happiness and wanted some for themselves. In May, I celebrate 20 yrs of being a nurse! 
 Picking up a 4-Legged Travel Companion
When we arrived in Gillette, Wyoming, for my first assignment, we were beyond happy with our new surroundings, but something felt like it was missing. We had left our kitty, Petyr, back home in Texas because we didn't want to make too much of a change in his world. We visited the local shelter and met Maverick. He had been adopted but, due to his separation anxiety, was returned to the shelter. He sat there for months, unwanted because he was considered special needs. He's been an absolute delight. He brings out the best in us. My husband is actually an LVN, and we're hoping that he can work in the compact states so that he can maintain his skills. They're both an awesome support team. They greet me with such joy when I come home from work. Maverick is definitely a momma's boy — so protective and proud.
I'm still so happy we get to go on adventures together. Recently, for example, we randomly visited Mercer Island and had a tiny picnic in the park. 
Travel Nursing Brings So Much Joy 
I'm so torn about what my favorite part of this whole experience is. I absolutely love the opportunity I'm afforded by being able to see different hospital systems in different towns, cities, and states. I love the people I get to meet. By nature, I'm a talker. I love to hear my coworkers experiences, meeting a variety of patients from all over the world, and getting to share our story. The patient population is far different from that of South Texas. Plus, we love experiencing a variety of places.
When I was on assignment in Wyoming, we drove to Mount Rushmore with Maverick.
In South Dakota, we took a Christmas train through the Black Hills.
I've treated patients from India, Russia, and even a former NFL player.
 That's just the beginning. Our goals in the near future are to visit Alaska and revisit Hawaii. We also plan to revisit Japan since we are basically a flight away. 
Nick is an absolute dream recruiter. Not only is he a professional, but he's also become a friend and family member. He texts regularly to check up on us, he's connected with us on Facebook and Instagram, and he's just so encouraging. He cheers us on when we go on adventures and asks about them afterward. He also shares his life with us. He is simply just a loving person, and it's so evident that he loves his family and job. I'm so grateful that we were paired together. What I find most endearing is that he genuinely cares about what's in our best interests. He knows that we have an ill family member in lower Washington, and he worked to get me an assignment that would put us in proximity to my family. To further add to his amazing attitude, he inquires about our family members and our well-being. He's everything you could wish for in a recruiter and friend. Nick and Britt are serious travel nursing goals! They make it look so simple. We love that about them. Plus, their daughter and the family dog are cuties.
3. Working at Your Dream Hospital
"I think I always wanted to be a nurse. I remember trying to help sick and injured animals when I was a kid, without my parents' knowing, of course, as I thought I'd get in trouble. My family has a very special history in the outdoor amusement business, and I spent my childhood on the road. I traveled with carnivals every season until I started college."
Meet Nichole, a Nurse Embracing the Carousel of Opportunities
I had always wanted to go back on the road. There's something very liberating about travel. It's self-validating, active, stimulating, and highly addictive. Nursing was not only in my nature, but it would offer me the opportunity to travel and help with the family business if I chose. After school, and once I had gained nursing experience, I began to feel claustrophobic. I decided it was time to seize the opportunity that I had spent 10 long years creating for myself. I had almost forgotten my end goal. So I went back on the road, but this time with a circus. Before I did, I spoke with a friend and coworker who took travel assignments, and she hooked me up with my recruiter, April. I told her I would be traveling for a while but wanted to be prepared to take a nursing assignment when I decided to get off the road for a bit. And that's what I did. I traveled for 4 months with a circus before taking my 1st assignment. 
I found TNAA, and April, through a coworker who was taking travel assignments and working PRN in my ED. She appeared to be really enjoying the experience and didn't ever seem to encounter setbacks or surprises. It's a niche industry, and the idea of venturing into it was daunting — but my friend assured me that it would be easier than I thought. She encouraged me to contact April. Once I sent my first email to April, everything moved swiftly and without issue. She was so friendly and welcoming, clear, and understanding. She answered every email and text immediately so that none of my questions went unanswered, ensuring all of my fears allayed. Her instructions were clear, accurate, and the company handled pretty much everything. All I needed to do was provide copies of a few documents and take a few quick and easy online assessments. Everything else was handled – from my licensing in other states to my hospital applications.
Support When You're Far From Home
Today, I don't have the same questions and fears, but April is still readily available for any questions or concerns I may have. In fact, as I write this, I'm reminded that I texted her a question about overtime just last night, a Sunday, and woke up this morning to an answer for her — on a national holiday. As wonderful April is, every other person I've worked with at TNAA has been just as wonderful! They're kind, professional, helpful, and, perhaps most importantly, quite immediately available.
I remember having a question a few months back — I don't know what it was so it must have been minor, but I felt it was important at the time — and I called every person from the company whose number I had, regardless of the department. It was a Friday night. I did finally reach someone from TNAA, Phillip, who worked in an entirely different department, but he nevertheless found me an answer right away. I thanked him profusely. He said he happened to be working late that day and was happy to help. Travel nurses rank TNAA as the best travel nurse company every year for good reason. Their professionalism, expertise, and friendliness are unparalleled. 
That Feeling When Opportunity Knocks
I could not be more proud or feel more accomplished in my career, and it's all thanks to travel nursing and TNAA. I have obtained professional experience while traveling that I would never have dreamed of if I had remained staff at my original hospital. When I left Tampa, I had only worked at 1 hospital for my entire healthcare career. It was not a trauma center nor a teaching hospital. I didn't think I'd have the opportunity to experience these types of facilities until settling down again as regular staff. As an ER nurse, trauma experience is highly desirable, and experience working at a large teaching hospital is valuable for any specialty. I expressed an interest in finding a travel position at one of these types of facilities to April early on and, while she was supportive and encouraging, I didn't hold out hope. She insisted that doors would open after my 1st assignment.
After my 1st assignment at a small community hospital, I told April that I would take any position in any trauma center anywhere if she could find 1 that would take me. The next day, April told me that she happened to have a connection at a major Level-1 trauma center in Boston, one of the best hospitals in the country! She said the nurse manager wanted to interview me and I couldn't believe it. I was offered the position during the interview and accepted immediately. April assured me that TNAA would cover any expenses for further certifications, and before I knew it, someone from the company was in contact with me to find certification courses. After that assignment, the entire world opened up. Now that I have trauma experience, and in Boston, I can go anywhere, literally anywhere at all.  I couldn't be happier or more proud of my experience and my career, and it's all thanks to TNAA, April, and April's assistant-turned recruiter Chelsea.
I have everything that I could ever want and have achieved my dream of creating a career that suits my crazy lifestyle.