December 12, 2021
TNAA Donates $10,000 to Christmas Mall Investing in the Future Generation of Arkansas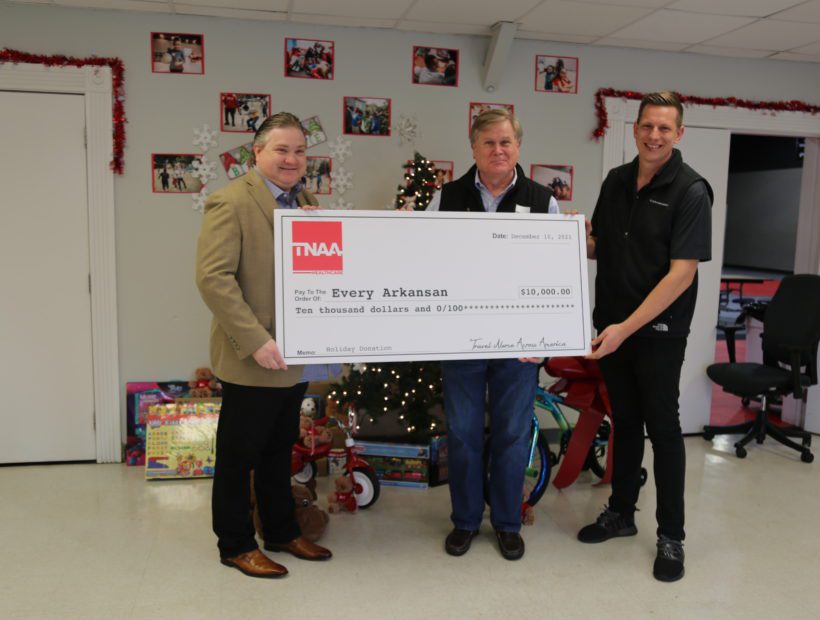 LITTLE ROCK, Ark. (December 16, 2021) – Every Arkansan received a $10,000 donation from Travel Nurse Across America (TNAA) to help with its statewide Christmas Mall initiative. The donation is part of TNAA's holiday charity program.
"TNAA has been headquartered in Central Arkansas for over twenty years. We have strong ties to the state and focus on giving back to the local community every year through our holiday charity program," said TNAA's CEO, Tim McKenzie. "This year's donation comes with the purpose of giving back to a local non-profit that places children and investing in the future generation at the heart of its mission."
Every Arkansan, the culmination of the Arkansas Dream Center and CityServe Arkansas, provides local churches with resources to build stronger relationships with those in need in their communities. What started as one event in Central Arkansas has grown into nonprofits joining forces to set up churches across the state with the foundation needed to make an impact in children's lives this holiday season. This year with its Christmas Mall, Every Arkansan plans to give nearly 5,700 kids a toy under the tree.
"We are connected to 42 different churches across the state for our Christmas Mall this year," said Every Arkansan's Marius Mauthe.
Travel Nurse Across America staffs nurses, techs, and allied professionals on multi-week assignments in healthcare facilities in all 50 states. These assignments fill the needs that hospitals have all across the nation. With a commitment to provide the best possible service to the traveling healthcare community and a corporate responsibility to its local community, TNAA is honored to have the opportunity to contribute to worthy causes such as Every Arkansan's Christmas Mall.